Fostering equitable opportunities through basketball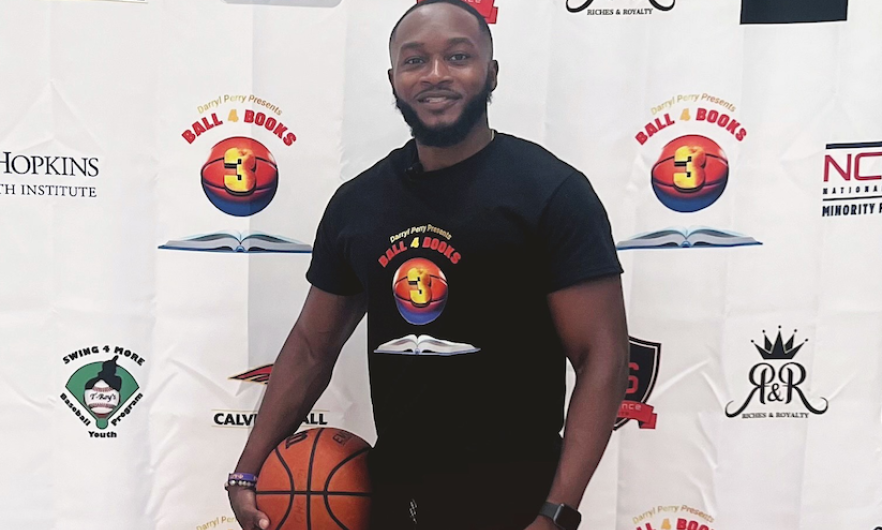 Darryl Perry, Founder, CEO, and 2021 Bunting Fellow of the Bunting Neighborhood Leadership Program is a native of Baltimore. Perry grew up in unique environments, where he was exposed to a diverse upbringing, both cultural and racial/ethnic.
At the core of Perry's upbringing was the concept of service to others. He cultivates a foundation of authentically and creatively leveraging personal feasibility and influence capacity to benefit the lives of others in some regard. Perry maintains a sense of self-reflection throughout various endeavors and initiatives throughout the years that all started as an idea that his creativity was able to manifest and see through.
What is Ball 4 Books?
Ball 4 Books is a program driven by the Darryl R. Perry Foundation, a nonprofit organization aiming to foster equitable opportunities and advance holistic wellness through engagement, transparency, and authenticity. Ball 4 Books is open to sponsorship, financial and in-kind donations.
What led you to create Ball 4 books? 
I'm purpose-driven, and everything I embark upon must make sense organically. This is what led to Ball 4 Books. Renowned as the tournament with a purpose, Ball 4 Books is a back-to-school basketball tournament that I established in 2019. Coming up on our fourth annual year (apart from 2020 due to COVID-19), Ball 4 Books has vastly grown into an experience. We have featured live entertainment, performances, vendors, and a few competitive basketball games, all in good spirits for the ultimate cause of generating an abundance of free school supplies for Baltimore City and neighboring county youth.
What is its purpose? 
As someone who grew up with a passion for the game of basketball, and a passion for community outreach (service), combining the two became a creative way to engage and bring awareness to the cause, along with another critical community-oriented component, that being health equity. Recreational engagement can be a great approach to fitness, health, and wellness while fostering a safe environment of fun, where community members can attend to check out some hoops, gather some resources, and overall enjoy themselves.
Who are the target audiences for Ball 4 Books?
Ball 4 Books has a widespread audience. While tournament players typically have ranged between the ages of 21-35, guests of all ages have come out to spectate and enjoy the friendly environment. We don't charge an admission fee; we simply ask that all guests planning to attend bring a school supply donation. While in the past, we have had children present to receive some of the onsite school supplies, the majority get distributed to a designated recreation center and schools on a scheduled date a week or so later. 
When is the next Ball 4 Books tournament? 
Our next event is Saturday, August 12th (2:00 PM) at Calvert Hall College High School, 8102 Lasalle Road in Towson, MD.