Community-Driven Research Day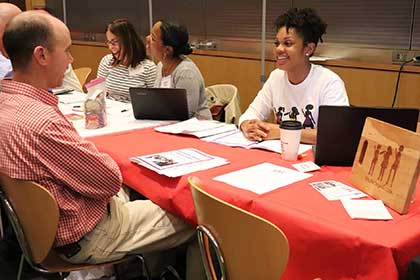 Community-Driven Research Day is an annual event that provides an opportunity for community-based organizations and city agencies to have a greater role in the research process, by elevating their needs and identifying activities that would benefit from the support of researchers. In speed dating style, interested faculty and students from across Johns Hopkins and other Baltimore colleges and universities meet with, and learn about, community-based organizations and city agencies that have research needs. 
Over the past 5 years, more than 150 Baltimore-based community organizations and city agencies have participated and the event itself has been, or is being, replicated by others across the country, including Michigan State, Children's Hospital of Philadelphia, Foundation for a Healthy St. Petersberg, and the University of California San Francisco.