Social Determinants of Health Symposium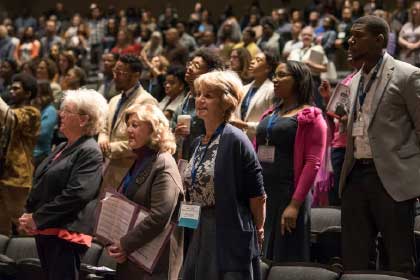 Established in 2012 by the Johns Hopkins Office of the Provost and Urban Health Institute, the Social Determinants of Health Symposium convenes on annual basis to examine the root causes of health inequalities in Baltimore and to identify evidence-based strategies that have been effective locally and nationally. Researchers, political and religious leaders, community members, faculty, and students from across Baltimore come together to discuss how we can improve the health and well-being of our communities.
---
Our objectives in hosting this annual event:
To create a learning opportunity that will bring together faculty, administrators, students, engaged community residents, service professionals, and leaders from across the city to increase awareness and to collectively identify the central social and neighborhood factors that contribute to the inequalities of health seen in Baltimore.
To bring together experts (researchers and practitioners) from all relevant sectors to share evidence-based strategies that promote health equity at the community level.
To highlight innovative partnerships for research and service delivery that address the social determinants of health.
To identify priorities for Baltimore over the next few years to address the social determinants of health.
To strengthen existing relationships and foster new ones among and between Johns Hopkins and community partners that together reduce the health inequalities that characterize Baltimore and many American cities.