"Nuts and Bolts of Program Evaluation" Workshop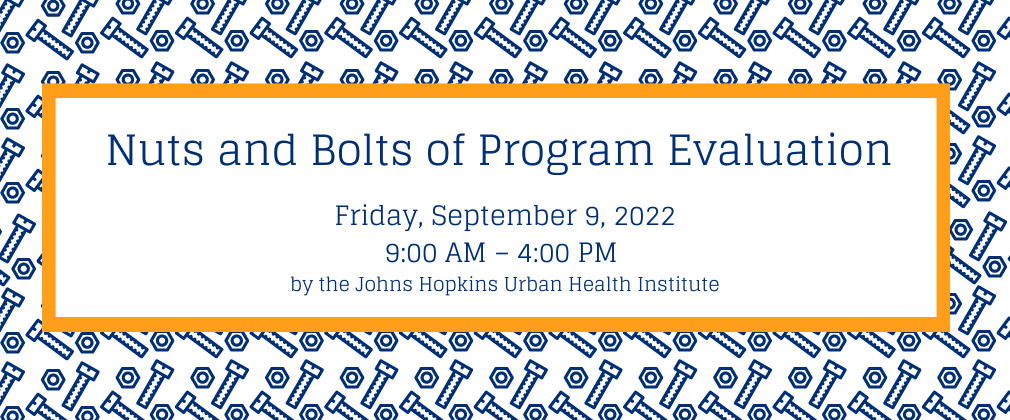 This community capacity-building workshop is for community-based organizations interested in developing effective program evaluation skills. This program is designed specifically to build capacity for community organizations in Program Evaluation skills. JHU students, faculty, and staff are ineligible to participate.
The Urban Health Institute offers three capacity-building workshops a year as an opportunity for community-based organizations to refine their skills in areas such as grant writing, financial management, and program evaluation.
The workshops attract participants from a wide range of community-serving organizations in Baltimore and it is our goal to respond to community issues by making the expertise of JHU affiliates accessible. 
Workshop Summary: 
A well-designed evaluation allows organizations to demonstrate the impact of their program in the community, make a case for support, and identify components of a program that need to be changed or eliminated. In "Nuts and Bolts of Program Evaluation" participants will learn how to:
Describe programs from an evaluation perspective
Gain knowledge and practice for developing a program logic model
Explore the different types of evaluations
Learn new monitoring and evaluation concepts
About the Instructor:
Kristin Mmari, DrPH, MA, is a Bloomberg Associate Professor of American Health in the area of adolescent health; she is also an associate professor and serves as chair of the master's programs in the Department of Population, Family and Reproductive Health of the Johns Hopkins Bloomberg School of Public Health. Mmari focuses on cross-cultural research, qualitative methods and analysis, and program evaluation, with an emphasis on domestic and international adolescent populations. Mmari has provided technical assistance to numerous domestic and international organizations over the past two decades and has served as a consultant on several adolescent monitoring and evaluation projects, including U.S. Agency for International Development, Joint United Nations Programme on HIV/AIDS, UNICEF, World Health Organization, United Nations Population Fund, Centers for Disease Control and Prevention, and Pathfinder International. She also works closely with area agencies, including the Maryland Department of Health, Baltimore City's Department of Planning and Office of Sustainability, and the nonprofit Baltimore's Promise.
Please note that this workshop is highly participatory and space is limited to one person per organization to ensure that as many organizations benefit as possible.
Questions? Please contact us at urbanhealth@jhu.edu.
* * * * * * * * * * * * *
The Johns Hopkins Urban Health Institute hosts a series of capacity-building workshops for community-based organizations in Baltimore. Topics include grant writing skills, program evaluation, and financial management. Learn more at www.urbanhealth.jhu.edu.