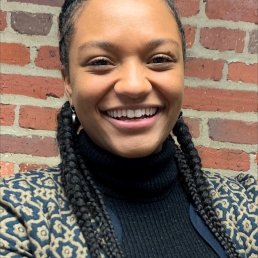 Perri Carroll
Perri Carroll is an advocate, provoking educator, public health professional, and amateur cook, who loves using the power of food to bring people together. She is currently the community health educator for minority and vulnerable populations at the Maryland Department of Health, Contact Tracing Unit. In this position, she works to decrease health disparities and foster meaningful engagement with communities in Maryland. Previously, she was the senior wellness specialist and project coordinator in the Growth and Nutrition Division at the University of Maryland School of Medicine. She implemented wellness policies at the school level and trained teachers to promote healthy behaviors, so students can become better learners and live their healthiest lives. She wants to help make the healthy choice the easy choice. Perri also worked with the immigrant and refugee community in Baltimore at the International Rescue Committee. She created a Youth Orientation Program to help prepare youth for their first year in a new school. She has a strong passion for helping the immigrant community feel at home in Baltimore and believes in creating an inclusive community for all people living in the city. Perri promotes this vision in her work as board president of the Julie Community Center, a nonprofit community organization that fosters neighborhood pride and self-determination by providing support and resources that promote health, social, and economic well-being. She received her Master of Public Health at the University of Maryland School of Medicine.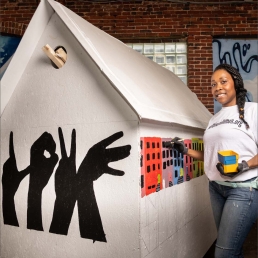 LaQuida Chancey
LaQuida Chancey is an experienced real estate investor, entrepreneur, IT manager, and owner of Xavier Estates, LLC, a full-service real estate company. In February 2018, LaQuida started Smalltimore Homes, an affordable housing nonprofit and sustainable living initiative focused on enhancing community living and improving existing neighborhoods for the benefit of the people already living there. Smalltimore Homes accomplishes this by offering transitional housing through micro-shelters and permanent housing through tiny homes. Smalltimore Homes creates alternative ownership opportunities and hosts free monthly financial literacy workshops for community members. The mission of Smalltimore Homes is to provide those living below the poverty level, specifically those experiencing homelessness, with transitional community housing in the form of micro-shelter and tiny home solutions. Local community partners provide families with individualized supportive wraparound services, while Smalltimore Homes focuses on the housing solutions at large. These solutions are customized to the target population's living situations and wraparound needs, including the size of the structure, length of stay, and required services on their journey to permanent housing. Ultimately, the goal is to help the target population obtain and maintain affordable housing. The ownership programs, bi-monthly financial intelligence programs and monthly micro-shelter volunteer building activities, are a catalyst to help community members reach their goals and fulfill their potential. LaQuida holds a Bachelor of Science in computer science with a mathematics minor from Spelman College.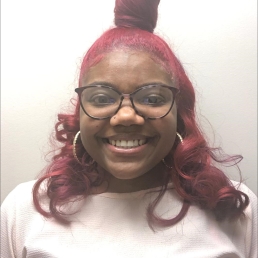 Alexis J. Covington
Alexis J. Covington advocates for mental and reproductive health rights for women of color. She previously managed citywide health literacy and home visiting initiatives designed to educate and empower women, so they can live healthier lives, expect healthier pregnancies, and safer deliveries. At an early age, she was taught the importance of community and knew that she would be a part of ensuring that her community thrives. She has dedicated a large part of her early career to increasing awareness and advocating for policies that improve health care access for pregnant women. Her personal and professional experiences have taught her that African American women have a unique experience in this country. Their lives are heavily shaped by these experiences and it is time we acknowledge it by creating a safe space for them. She holds a bachelor's degree in sociology from Morgan State University and is currently pursuing a master's in public health in social behavioral sciences at Temple University.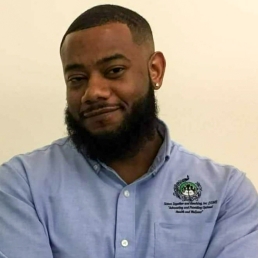 Demetrius Frazier
Demetrius Frazier has 19 years of experience working in the field of public health. His career began in St. Louis, MO, where he worked in HIV/STI prevention and education and provided counseling, testing, and referral services. Demetrius now resides in Baltimore, MD, continuing his role in HIV/STI prevention and serving as a community advocate. He is a member of the Johns Hopkins EDPFAC, a CAB member of Johns Hopkins Center of Health Equity's Rich Life program, and a Maryland state-certified community health worker. He is currently director of the Innovations Program, which is inclusive of Tumaini, the Community Health Worker program at Sisters Together and Reaching, Inc.
Felicia Gross-Bellamy
Felicia Gross-Bellamy, LMSW, is a licensed social worker in Baltimore, MD, specializing in aging. In her current role as community social work manager with Civic Works' Elder Services Programs, Felicia is responsible for training and supervising staff, Americorps members, and volunteers and providing case management and service coordination for older adults living in Baltimore City. In addition, she conducts quality assurance audits and implements community outreach and activity planning efforts. Felicia has made tremendous contributions to the organization as a whole with her willingness to step outside of her normal responsibilities to assist the Elder Services team and other programs within the organization with new projects that help improve the quality of life and overall well-being of both clients and staff members. Felicia brings passion and empathy to each of her endeavors and understands that there is always more to learn about those she interacts with, as they are the experts of their own lives. She looks forward to simply being a guide and support system for the individuals and communities she serves. She graduated in 2017 with her master's degree in social work from the University of Maryland School of Social Work with honors, and has been passionate about working in the community with older adults ever since.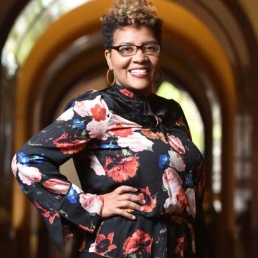 Kadija Hart 
Kadija Hart is passionate about community-led, equity-driven projects with more than nine years of neighborhood stabilization experience in Northeast Baltimore. In addition to what she learned from her mother and father, whom she considers true servant leaders, Kadija uses her positive outlook to open doors for partnerships that improve communities. "With her pleasant and pleasing personality, elected officials, community leaders, and community members are pleased to work with her, respect her, and seek her advice on community matters. Her gift for making those around her feel comfortable is admirable," says Rita Crews, former president of the Belair-Edison Community Neighborhood Association. Kadija works with The Center for Urban Health Disparities Research and Innovation at Morgan State University (RCMI@Morgan) on the Morgan CARES Program as a peer advocate. In her role, she helps facilitate meaningful interactions between community leaders and academic researchers to build on neighborhood strengths and assets. she participated in the inaugural cohort with the Kindred Coaches Program. The program aims to address health inequities and health care disparities within communities of color at the Diocese of Maryland. Kadija received several awards and honors, including The Leslie King-Hammond Graduate Award and The Fred Lazarus Leadership Award for social change. She is a former Bank of America Prosperity Now Fellow, a Daily Record Leading Women, and Associated Black Charities Women on the Move award recipient. Her volunteer work includes participating on the Board of Morgan Community Mile and serving as the former board president of Friends of Herring Run Parks. Kadija shares her Northeast Baltimore home with her husband, their beautifully spirited 8-year-old son, and pet turtle. She is an outsider artist with installations in Gwynn Falls Leakin Park, Lake Montebello, and Belair-Edison.
Kadija's love for community development led her to The Maryland Institute College of Arts Center for Social Design. The Center dedicates itself to demonstrating and promoting design value in advancing equity and social justice. The Western New York native received her MA in May 2020. Her capstone research focused on the intersectionality of philanthropy and community engagement. She received her undergraduate degree from Morgan State University.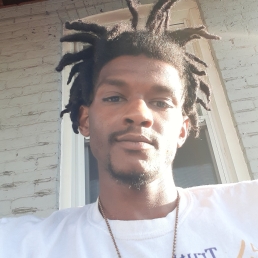 Lydell Hills
Lydell Hills is a community organizer, artist, and mediator, originally from Brooklyn, NY. Coming from an urban environment, he and his family have faced issues around public safety, mental health, and trauma. All of his experiences are the impetus behind his work to heal Black families and communities. Lydell uses mindfulness and creativity in his own life to process his experiences, and has always used his voice to speak truth to power. Now he organizes in Baltimore City, building grassroots movements to empower youth and Black communities. As he has begun his post-graduation journey, Lydell intends to stay deeply rooted in all of his communities and build pathways toward liberation for Black people.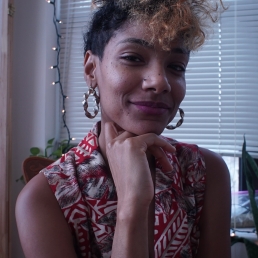 Nicola Norman Norman
Nicola Norman Norman is a coordinator, facilitator, and catalyst, dedicated to cultivating an embodied and inclusive future. She is a first-generation South African and Namibian American, who grew up in a single father household. From an early age, Nicola developed an insatiable desire for knowledge, which later developed into a passion for plant-based eating, wellness, and healing in community. Nicola has worked with organizations, such as The Institute for Integrative Health, Living Classrooms, Real Food Farm, and The Living Well Center, leading immersive and experiential health programming geared toward Baltimore City youth and families. Nicola's interests include co-creating culture, building capacity for intersectional equity, and coordinating opportunities for meaningful connections to be made. Through Garden of Nicola, a social innovation project founded in 2017, Nicola explores the intersections of food, history, and generational healing through workshops, video content, movement practices, and more. When she is not cooking up her favorite savory dishes or writing in her journal, she is likely supervising her energetic 7-year-old son's art and science experiments. Nicola graduated with a bachelor's in nutrition from Morgan State University, where she had her first experiences organizing. There, she cofounded a community garden next to campus and served as liaison between students and community for three years.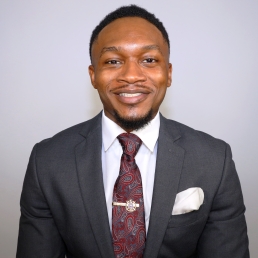 Darryl Perry
Darryl Perry is a native of Baltimore City and graduate of Morgan State University. His passion for community outreach and advocacy stems from a unique upbringing, where he witnessed firsthand the positive and negative effects of growing up in the inner city of Baltimore. The systematic disparities presented many challenges, however, the presence of community provided an exceptional sense of hope and inspired him to seek better. As the 2020 Martin Luther King Jr. Service Award recipient, this adds to his testimony that one does not have to fall victim to his or her environment. Darryl strongly believes that one can exude the willpower and determination to not only aspire, but also strive for more. Someone once told him that in life it is not about the amount of time we are here for, but it is about the impact that we have on others while we are here. Darryl lives by these practices by prioritizing the advancement of the Baltimore community first and foremost.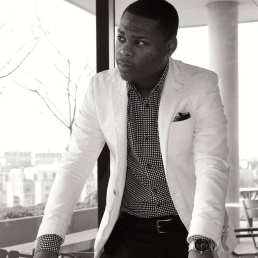 Lamontre Randall
Lamontre Randall is a well accomplished social construct visionary from Baltimore, MD. Currently, he is the co-founder of The BeMore Group, a consulting firm focused on providing innovative solutions for nonprofits, for-profits, and government agencies in low-income communities. The firm assists these organizations in becoming more efficient by bringing resources and solutions to its constituents and clients. The BeMore Group's finest component, however, is a mentoring group for boys and young men in Baltimore City. Due to his active work within the academic community, Lamontre was honored by the University of Maryland School System as its 2015 Diversity Champion and Unsung Hero. In addition to his awards, his work in the community has been featured on The Steve Harvey Show, as well as publications, such as Elite Daily, The Baltimore Sun, and The Diamondback. Lamontre was elected chair of The Baltimore Police Youth Advisory Board, where he uses his passion to assist in bridging the gap between the Baltimore City Police Department and the local community. He has devoted his career toward bridging the gap between those who have been given the resources to succeed and the unfortunate, who have been locked out because he believes "We Are Stronger When We Strive to BeMore Together." Lamontre graduated with a bachelor's degree in criminal justice with a minor in Asian American studies from the University of Maryland, College Park.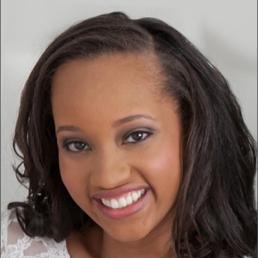 Atiya Wells
Atiya Wells was born and raised in Newark, NJ, and moved to Baltimore City to earn her nursing degree. Atiya is currently a pediatric nurse and nature educator. Her love for nature began during a spontaneous hike in Western Maryland. As a pediatric nurse caring for children unable to go outside, she was determined to ensure that her own children spent time outdoors as much as possible. While attending outdoor education workshops and classes, she noticed a lack of both diversity in leadership and cultural relevance in many nature-based programs. Atiya has since dedicated her free time to fostering nature connection in urban environments and creating equitable access to nature. She is the founder and executive director of Backyard Basecamp, Inc., an organization geared toward connecting Baltimore's residents to wildlife in the city. She is also the driving force behind BLISS Meadows, an innovative social justice project that creates equitable access to green space and fresh produce in her Frankford neighborhood. The BLISS Meadows team stewards 10 acres of land in Northeast Baltimore with the mission to reconnect Black, Indigenous, and people of color to their nature-connected history and culture.