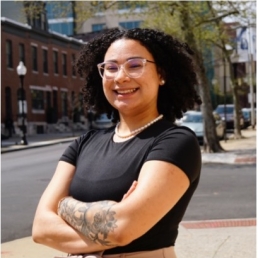 Danae Baxter
2023 Fellow
Danae Baxter is currently a Community Program Manager at Thread, Inc., a Baltimore City-based nonprofit that has been working with young people for ten years. As a child, Danae learned that life isn't always easy, and hardship will come. Despite hardships, Danae learned that we could overcome them with the right support network. Having this understanding led her into a career focused on youth development. Danae was raised by a single mother who worked absurd hours every week to provide for her, so she had to get herself to school and accomplish her educational goals. Adaptability and innovation were essential for Danae. In no time, she became the household's second breadwinner. She now brings this adaptability to everything she does. She quickly found herself involved in community work both on and off campus while studying Psychology at Johns Hopkins University. As a result of her lived experiences, Danae continues to exist at the intersections of many of her identities, which has enabled her to mature as an intentional leader, mentor, scholar, sister, and daughter. Black or white, religious or secular, Jewish or Christian, queer or heteronormative-these social dichotomies have limited Danae in the past. Growing up biracial and Jewish in Delaware, Danae wondered why she was here and what her purpose was. The desire to help others has always been one of her strongest passions. Through her curiosity, she became a scholar, graduated at the top of her high school class, and graduated from the top undergraduate university. Now, Danae is on a journey toward her true potential by integrating community work naturally into everything she is involved in. To continue her path to adolescent support services, she will begin a Master of Social Work at the University of Maryland.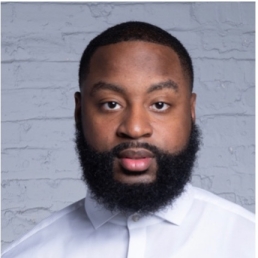 Dion Bowen
Dion Bowen
Dion Bowen, CEO of Epic Art Universe, a design and creative agency. Born and raised in Baltimore, MD, Dion has not let the negative stereotypes and stigmas of being a black man growing up in one of Baltimore's toughest projects, the Lexington Terrace projects, stop him from being a change agent for the next generation. With a Bachelors of Fine Arts degree from Salisbury University in graphic design he graduated and couldn't find a job. This down time helped him gain momentum in building his first business, a clothing brand called 'Loyalty Is Love'. As a result of his first business, Dion learned many lessons about the business world firsthand. He was later inspired to establish a creative agency, which houses a number of brands that focus on providing equal opportunities for youth across the state of Maryland. His experience as a high school educator, lacrosse and football coach helped him realize the importance of cultivating youth in communities of color far beyond the classroom. As part of Dion's mission, he designs and motivates the next generation to defy the systemic realities of tough environments and to excel in their unique God-given purpose, both visually and programmatically.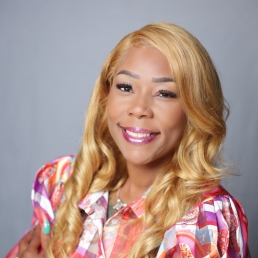 Donna Bruce
2023 Fellow
Donna Bruce, Founder and CEO of Donna Bruce Unlimited Inc., is a Senior Stylist, author, social justice activist, orator, mother, and a twenty-five-year trauma survivor. Despite many traumatic experiences, such as drug addiction, human trafficking, rape, and physical abuse, Donna Bruce gained strength and courage through self-help programs, art therapy, clinical counseling, and the support of her church, family, and husband to achieve long-term sobriety and healing. In addition to serving the healing community for over 15 years, Donna Bruce has been in the cosmetology industry for over 30 years. Many future stylists have been mentored by Donna, and several beauty schools have hired her as an instructor, including the Baltimore Studio of Hair Design and Empire Beauty School. And ultimately, becoming the Director of Education at Baltimore Beauty & Barber School. Her experience with addictions and other unfortunate life situations led Donna to become a Certified Peer Recovery Specialist. She advanced to become a Registered Peer Supervisor through the Maryland Addiction Behavioral Health Board. As a social justice advocate, Donna Bruce was nominated by Councilman Zeke Cohen for the first-ever Trauma Informed Care Task Force with the passage of the Elijah Cummings Healing City Act. Donna Bruce also spearheaded Destiny's Dream scholarship after the tragic passing of Destiny Harrison in her salon, for cosmetology students at Mergenthan Vocational High School to receive one thousand dollars for supplies needed to succeed in the cosmetology program in honor of her daughter Dream. A champion of change, Donna Bruce, decided to take her passion a step further by testifying on House Bill 782 and Senate Bill 206 – True Freedom Act of 2020. Her testimony led to the passage of the bill in 2020, which allows victims of Human Trafficking to have their criminal records wiped clean. Among Donna's other contributions is the 2019 House Bill 827, which enables sex trafficking children to receive screening instead of incarceration. Donna's story illustrates that healing is possible, but there is much more to say and do about it.
Read more about Donna Bruce's story in our blog and order your copy of Donna Bruce's memoir, "From Shadows to Strength: The Saga of Donna Bruce!"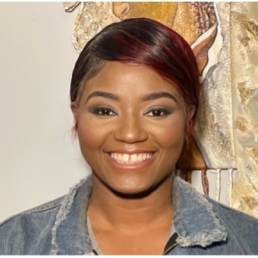 Tameka Bryant
2023 Fellow
Tameka Bryant has previous experience as a Project Administrative Assistant with a demonstrated history of working in the non-profit organization management industry. A highly skilled professional in the areas of computer repair, HTML emails, community organizing, HTML, and accounting. Having graduated from Maryland Academy of Technology & Health Sciences, Tameka is a strong administrative professional. Aside from this, she also served as an Americorps Public Ally at the University of Maryland from 2015 to 2016. After serving as the Coordinator for inFusion, the grant-making arm of Fusion Partnerships, since the program started in 2015, Tameka has become an integral member of the organization. Tameka has made a tremendous contribution to our Baltimore community, while also being a full-time mother to her five-year-old son, DJ. In the course of her spare time, Tameka has taken up a hobby in the Makeup Artistry industry that she enjoys very much. Because of her son, Tameka carries out all the amazing things that she does, all for the sake of making this world a better place for her son.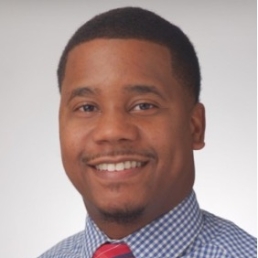 Russell Bunn
2023 Fellow
Russell Bunn was born and raised in Baltimore, MD. He attended Western School of Technology and Environmental Science where he received his high school diploma. Mr. Bunn graduated from the University of Maryland in the spring of 2011 with a Bachelor of Science degree in Environmental Science with a concentration in Marine Biology and a minor in Urban Sociology. He founded the Aiding Community Excellence Club in 2012 with a close friendwho were both young college graduates from two different fraternities and were passionate about making a positive impact in troubled communities that curated their life experiences. This organization promotes environmental awareness, community outreach, mentoring, and philanthropy. As a mentor to a young male mentee, Mr. Bunn developed a love of photography, which later led him to form two photography businesses: Images by Bunn, and Visual Primacy Alliance. He was then offered a position within a mental health firm, Family Visions LLC, where he was initially a coordinator, but eventually promoted to Assistant Director. Soon after, he was hired by Housing Authority of Baltimore City (HABC), as a Regional Service Coordinator. In order to continue his path for career advancement, he was employed with the Choice Program at the University of Maryland Baltimore County (UMBC) as a Regional Placement Coordinator, which provided the opportunity for Mr. Bunn to advocate for disconnected youth with job development and attainment. Mr. Bunn's passion for advocacy led him to a Master's Degree in Human Services Administration- Nonprofit Management at Coppin State University/University of Baltimore. Mr. Bunn continues his impact in our Baltimore community as the a current Community Specialist for Baltimore City Public Schools, where he promotes family/community engagement and environmental sustainability.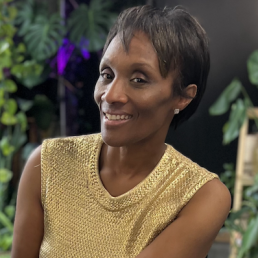 Hope Ford
2023 Fellow
Hope Ford is a Human Services professional with more than 25 years of initiative planning and program development experience. Her track record shows that she can analyze complex business situations, generate insights and deliver evidence-based recommendations. Combining service level outcomes with research-based strategies makes Hope's work critical for Baltimore. As the founder of The Compassion and Resilience Research Center in Baltimore, she has improved the wellbeing of public service professionals in the McElderry Park community. A repository of information on Instagram - @hopeforwellness - offers some practical tips based on her research. In these video shorts, Hope provides tips for maintaining resilience. Using her wellness experience and research, Hope has also impacted the communities of Sandtown-Winchester, Park Heights, and McElderry Park. During her tenure at Johns Hopkins Hospital, she administered a scientifically based burnout tool and created a workshop on psychological safety to promote staff wellbeing. She discovered that engaging with visual art increases powers of observation and increases imaginative problem solving as a Baltimore Heritage Foundation grant recipient. Prior to joining The Johns Hopkins Hospital, she served as a mentor, art curator and development staff at Living Classrooms Foundation. She raised over $100,000 for the organization through fundraising. Hope Ford works to redefine how we help the helpers. Hope's work emphasizes the value of creating interventions for individuals indirectly impacted by their work. It is her mission to ensure the community of public service professionals recognizes this issue as a matter of health equity.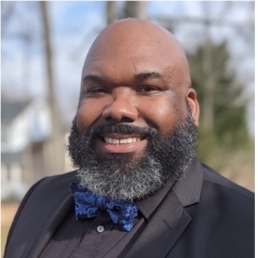 Jayson Jerel Green
2023 Fellow
Jayson Jerel Green serves as Executive Director of New Song Community Learning Center, a Baltimore City Public Charter School operator of New Song Academy #322, and a Prek-8 public charter school located in Sandtown-Winchester. Jayson is responsible for the management of this 30+ year old nonprofit organization. He manages the budget, the operations, the fundraising, and the vision for the organization. Since Jayson joined New Song CLC in December 2020, he has increased individual donations, major gifts, and grants. As well as increasing enrollment, he has automated many operational processes for a more efficient workplace. The organization and city agency partners that Jayson has brought in have also provided additional resources. Throughout his career, Jayson has worked with young people and their families to expand education and employment opportunities. His previous roles include Executive Director of the Y in Druid Hill. And before Druid Hill, Jayson worked at the YMCA Fairfax County Reston, The Princeton Review, and The University of the District of Columbia. As a native of the Bronx, NY, Jayson understands the importance of education and equity. By raising and stewarding the funds necessary to accomplish their missions, Jayson has helped start and run businesses. Among Jayson's community involvements are his position as Secretary of BCIITY, Board Member with Baltimore City PCAB (Parent & Community Advisory Board), Board Member with Stocks in The Future, and Johns Hopkins. As a summary of Jayson's experience, he values equity and inclusion in every organization.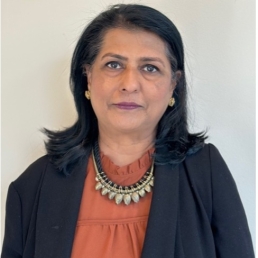 Tahira Mussarat Hussain
2023 Fellow
Tahira Mussarat Hussain has more than 25 years of experience as a human rights activist in South Asia and the United States, where she has made significant contributions to the development of awareness about human rights and community issues. A self-directed professional with excellent communication, interpersonal, and problem-solving skills. With an emphasis on women's rights and out-of-school youth rights, Tahira has experience helping underprivileged individuals become self-sufficient and connecting them to appropriate resources. Her specialties include advocacy, lobbying, campaigning, grassroots development, media, environmental advocacy, disaster response, and human trafficking. In her capacity as a community outreach activist, Tahira works with local non-profits and Islamic centers to provide services to underprivileged South Asian communities. During the pandemic, Tahira helped community members file social security and social services documents. As a volunteer and activist, Tahira helps the South Asian community and underprivileged people with their documents and legal work so they can receive county and state benefits. Tahira's services include helping them file for EBT/food stamps, housing rent, assistant living, nursing homes, earned income tax credit (EITC), and the childcare and development fund. Putting her work into practice, Tahira has helped her sisters and brothers file for their green card citizenship. She also tries to get them Pro Bono help for Divorce custody cases or any kind of domestic violence situations. Furthermore, Tahira is involved with county services and social organizations to expand mental health and health benefits. As well as assisting with hospice care and funeral arrangements.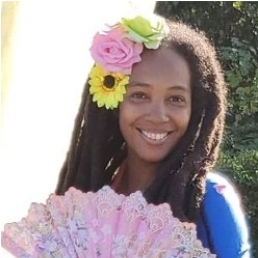 Olufunmike Woods
2023 Fellow
Olufunmike (Olu) Woods, a Village builder, a social entrepreneur, applied afrofuturist and distinctive artist who has founded several long running, impactful Baltimore initiatives: Afrikan Youth Alchemy, Free Up Village Community Supported Education, Baltimore Citywide Youth Poetry Team, Organic Soul Tuesdays and Poetry for the People Baltimore. She has received a Weaver Award, a Rubys Artist Project Grant, and a Maryland State Arts Council Individual Artist Award on her journey from being trained as a mechanical engineer and working at NASA to realizing how practical art is at contributing to community solutions. Born in Nigeria, raised in St. Croix, V.I. and Maryland, she is author of an acclaimed collection of poetry, The Revenge of Dandelions, featured in a Netflix special: Dark City Beneath the Beat, curated a major afrofuture Artscape anchor project, was cast in the record-breaking acclaimed world premier musical Marley at Center Stage and has toured internationally as a principal dancer with Sankofa Dance Theater, with the band Fertile Ground and independently.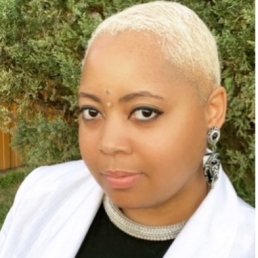 Paris Samone
2023 Fellow
Paris Samone is a multidimensional artist, an intentional mother, a foster parent, a mediator, a youth communication support coordinator, advocate, and a multidisciplinary artist. Growing up, she was left to raise her three brothers alone. As a means of coping with this change, Paris Samone started doodling in her room, later learning henna doodles. At 16, she became a young mother looking for connection. As a result of gun violence, she soon became a single mother. As an example of resilience and hope, she is an inspiration to youth in similar situations. Paris put a great deal of work into growing and providing for her son. For a while, she had to put her arts on hold to survive, but the arts eventually found their way back to her. Still, the arts and community leadership were her passions. Paris has dedicated her life to empowering youth and giving back to her community. Among the many art forms Paris learned in her room are acrylic art, pyrography, henna, plant-based cooking, crystal jewelry, hair styling, wall murals, cake baking, and fashion design. She went from being a lonely child in her room to working as a youth coordinator and program director in Baltimore. Paris has dedicated her life to her children, empowering youth and giving back to her community. To create positive change in her hometown, she has volunteered her time and resources by creating an organization to inspire and connect on a larger scale as a MD licensed non-profit consultant. Paris is an inspiration to many through her creative works, volunteer efforts, and leadership.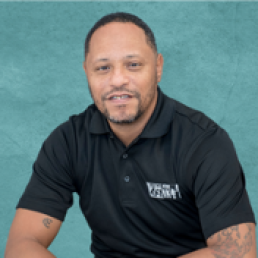 Jerel Wilson
2023 Fellow
Jerel Wilson, a Baltimore native, turned ordinary circumstances into extraordinary opportunities. Born to a single mother and the oldest of eight children, resulted in him getting involved in gangs and drugs at an early age. His mother, fearful of his future, sent him to live with his grandmother in Baltimore County. As a result of his grandmother's determination, his refocus, and his brotherhood of friends, Jerel graduated Randallstown Senior High School in 1998. He then earned his Bachelor's in Criminal Justice with a minor in Psychology from St. Augustine University on a basketball scholarship. As a result of his success story, Jerel decided to use his knowledge and intellect to assist others who faced similar challenges as he did during his childhood. He began his career with BCTT (Building Communities Today for Tomorrow), then moved on to Woodstock JobCorps where he became the Operations Manager and Floor Supervisor for many years. As a result of his mission, Jerel decided to further his efforts when he launched "For My Kidz," a program designed to help at-risk youth overcome their barriers and achieve success as well as or even better than they did. "For My Kidz" is known for being involved. It soon manifested itself as an afterschool program and became a full-fledged non-profit after one of the kids, Keion's passing. The organization is involved in providing housing, workforce development, OST care, and much more to residents of Baltimore through its full-fledged Resource Center located at 2036 West North Avenue. Thanks to Jerel's diligence, the organization has been involved as mentors in schools, hosting annual holiday giveaways, and serving Baltimore City and beyond. It is his intention to continue doing this work for as long as he is called to do so. You can learn more about Jerel and "For My Kidz'" mission on their website, www.formykidzbaltimore.org.
Read more on Jerel Wilson's story in our blog!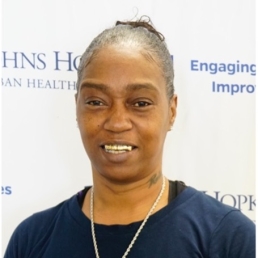 Raichelle Johnson
2023 Fellow
Raichelle (Ro) Johnson was raised in a drug-using family and lived in Baltimore near 27th and Greenmount. At the age of 12-years-old, Raichelle endured many life changes. These life changes involve Raichelle losing many people in her life. It began with having to step in and care for the children of her sister who became addicted to drugs. And then eventually becoming responsible for raising all the children while her family was in either rehab, jail, or other rehab facilities. Over time, Raichelle's sister's drug use grew more severe. In response, Raichelle brought her sister to Charm City, but her family could not help. It resulted in Rachielle losing her sister, whom she lost on the Penn North sidewalk in Baltimore. For Raichelle, this was a particularly painful experience. Having been unable to support her sister during her life is one of Raichelle's greatest regrets. Raichelle also lost her grandmother to cancer at 12. As a child, she was raised in a loving family by her grandparents, who served as her primary caregivers. Her grandfather provided for her and her family throughout her life. Despite having 60 or more grandchildren, his providence continued to extend to them all. There was a rule in Raichelle's family that said, "Whatever happens in this house, stays in this house." Therefore, if anything was wrong, Raichelle didn't tell her grandmother. In the aftermath of Raichelle's grandmother's death, her mother moved her grandfather into an abandoned apartment building without a bathroom. Raichelle's uncle then killed her grandfather in a drug deal in the same house they lived in.
As a result of all the life experiences Raichelle has encountered, she began tending bars (illegally) at the age of 18 and continued to do so until 2016. Eventually, she became the manager of the bar. As a result of carpal tunnel, neck, and back pain, Raichelle eventually stopped tending the bar. A few months later, Raichelle's niece invited her to come to work with her one day, which led to Raichelle becoming a volunteer at BMore Power. During this time, Raichelle was offered a job by the director on June 26, 2017. From there, she was promoted to an outreach worker and then a site leader. Raichelle was then offered a job with Charm City. In the beginning, Raichelle served on the planning committee as a volunteer.Soon after, she was offered a position as an outreach coordinator on July 15, 2019. After stepping down from her leadership position at Baltimore Power, Raichelle remained an outreach worker. Raichelle describes her family's experience as a disaster, citing trauma after trauma. However, based on her leadership experience, she realized there must be something better. As a way to recompense what her family has taken from Baltimore, Raichelle has focused her life on giving back to the community. This has led her to desire not only success in her career, but also to give back to the community.  Ultimately, Raichelle hopes to manage harm reduction centers and Overdose Prevention Sites, so she can help people find the peace and stability that she desired for herself. Raichelle wants to make sure all people are treated with dignity, respect, and care, regardless of their drug use.